The Campaign for Meadowbrook
Celebrating the School We Love
At the Meadowbrook School of Weston our commitment to excellence in learning, teaching, and community has resulted in one of the premier K-8 programs in the country. We have now taken a bold step in our school's evolution that will help us continue to fulfill our mission to know, love, and challenge every child. To that end we have embarked on vital campus renovations that will better prepare our students for success in an ever-changing world, and are expanding our endowment to ensure our institutional strength and flexibility over the long term.
We will achieve these goals through the most ambitious fundraising initiative in Meadowbrook's history. Imagine More: The Campaign for Meadowbrook represents both a highly strategic undertaking that will strengthen the school we love and a celebration of Meadowbrook's proud history. Imagine More also reflects the spirit of joyful curiosity we instill in children -- inspiring students, parents, faculty, and friends to envision a bright future full of possibility for our school.
Imagining – and Achieving –
A Bright Future
IMAGINE MORE:
THE CAMPAIGN FOR MEADOWBROOK
Campus Renovations | $25 million
The Steve Hinds Faculty
Support Program | $5 million
Financial Assistance | $5 million
Total Goal | $35 million
For almost a century, the Meadowbrook School has provided an unparalleled K-8 education to eager, curious young people, setting– and consistently clearing – a high bar for academic success while maintaining a caring and supportive learning environment.
Part of Meadowbrook's success results from our ongoing commitment to continuous improvement. Imagine More: The Campaign for Meadowbrook represents not only one of the boldest initiatives we have undertaken as an institution, but also a necessary step toward positioning Meadowbrook to thrive in decades to come. Thanks to the vision and generosity of past supporters, we are launching the Imagine More campaign from a place of strength – and in doing so, inviting our entire community to dream big and imagine more of what we can achieve for our school and our children.
Imagine More encompasses two major strategic objectives: renovating our campus [link to Campus page] to better prepare our students for a changing world, and growing Meadowbrook's endowment through increased faculty support [link to Faculty page] and enhanced financial assistance. [link to Financial Assistance page]
We're counting on the support of a broad cross section of our community to reach our ambitious – yet attainable – $35 million goal. With the help of past and current parents, alumni, faculty, staff, and friends, we can ensure a bright future for Meadowbrook – and for our students.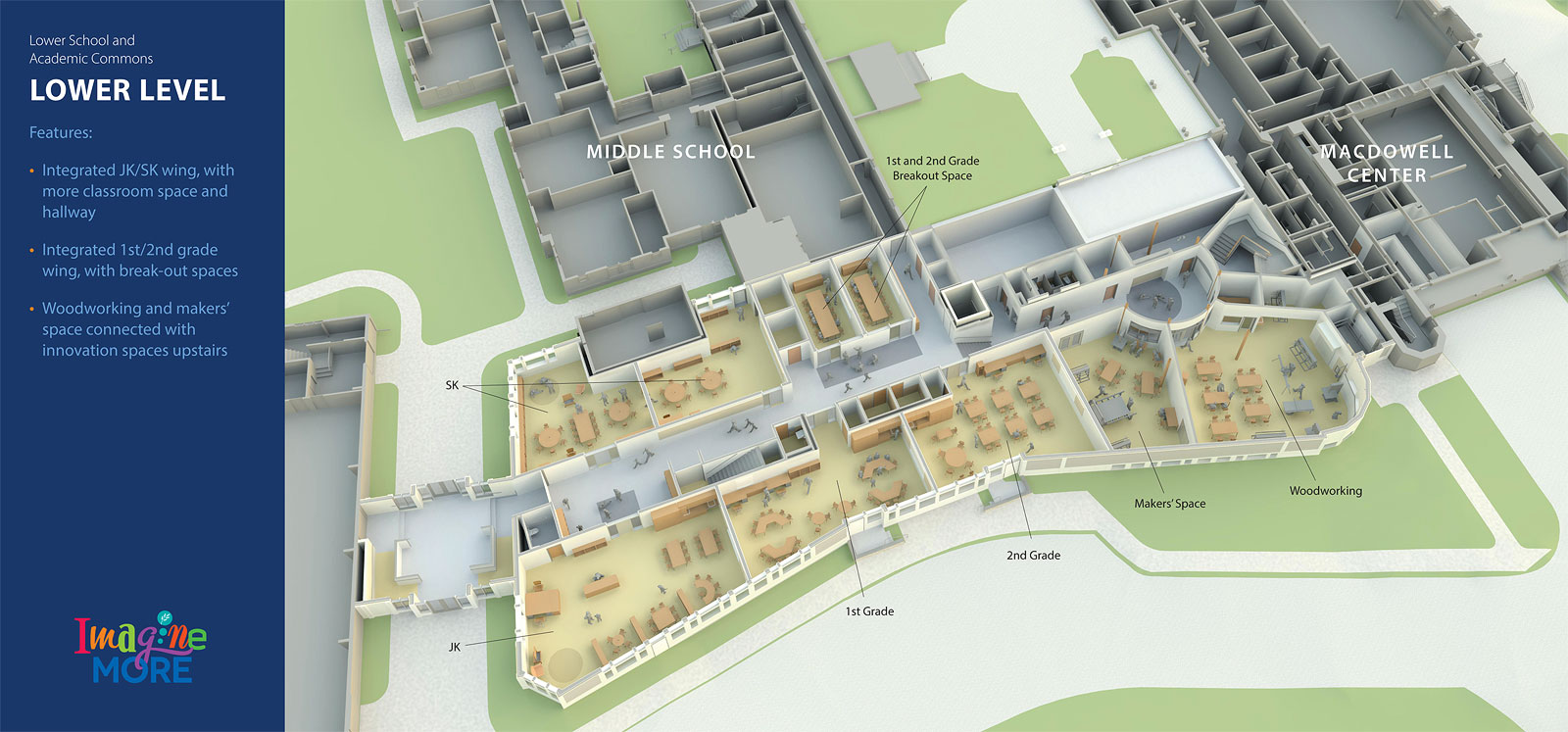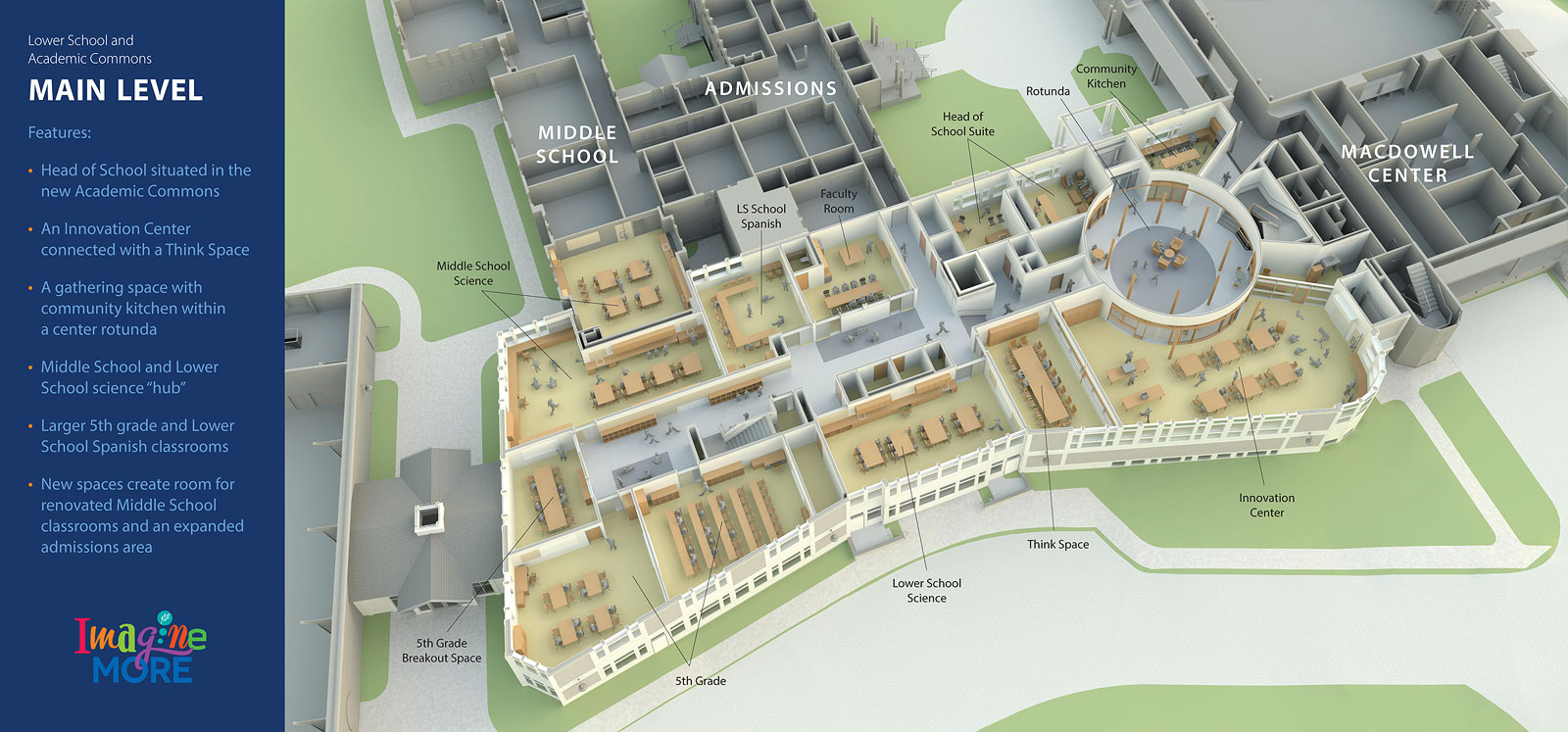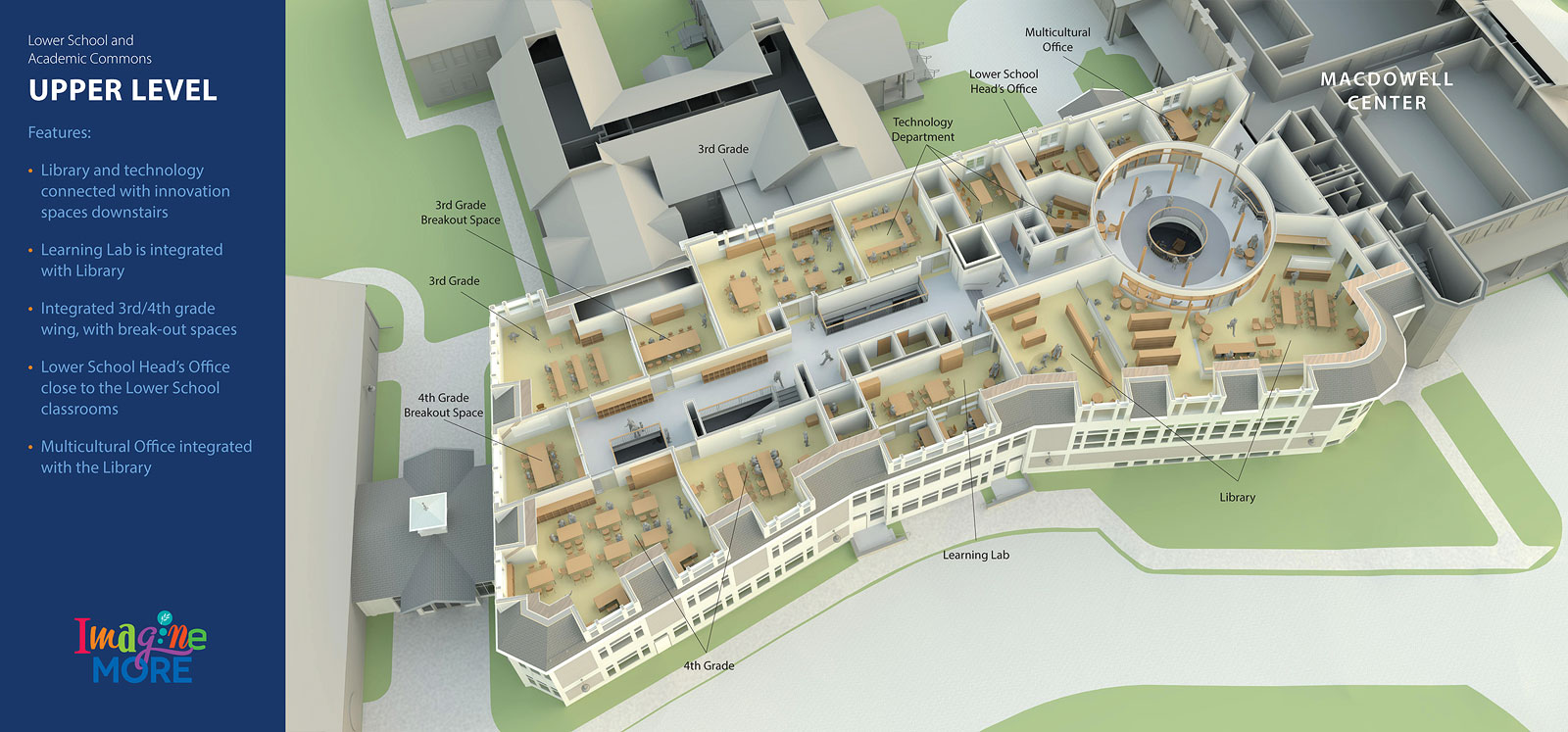 The world for which we are preparing our children has changed dramatically in recent years. Many Meadowbrook students will one day pursue careers that don't yet exist in fields that have yet to be created. To prepare them for future success, we must teach them to think nimbly and creatively, and to solve problems with innovative, collaborative methods. This approach requires dynamic learning environments that accommodate the forward-thinking, hands-on teaching methods our faculty members employ.
Meadowbrook's current classrooms were built to an outmoded approach to teaching that has been largely replaced by an emphasis on group-oriented, project-based learning. If our faculty are to continue delivering the exceptionally high-caliber education our families expect – and our students deserve – we must undertake several vital renovations and additions to our campus. The Imagine More campaign will secure the resources needed to fund these essential improvements – creating a world of possibilities for our faculty, staff, and students.
Opening Doors to Discovery
Innovation Center
Meadowbrook has achieved national recognition for its groundbreaking EurekaLab curriculum. Our students employ innovative tools and techniques on a daily basis, bringing their projects to life with a 3D printer or exploring subject matter in greater depth using iPads. Through the campaign, we will create a new Innovation Center to serve as a permanent home for these activities with multipurpose areas for Makers activities, woodworking, engineering, digital media, and robotics.
SCIENCE HUB
For the first time, Meadowbrook's lower and middle school classrooms will be joined to form an integrated science hub that connects directly to the Innovation Center. Students and faculty will have access to equipment and space for conducting experiments and constructing prototypes, projects, and models. A central hallway joining the classrooms will feature space for displaying student projects.
Learning Commons
The area currently occupied by the library will be transformed into a central gathering place for our community, with space for close collaboration among students, faculty, and staff. The Academic Commons will serve as a focal point for the campus, with a central rotunda that connects directly to the Innovation Center, a redesigned library, and new science classrooms. A community kitchen will enable parents and faculty to prepare snacks for parties and events; a multipurpose Think Room, available to all members of the community, will feature whiteboard walls for brainstorming.
Library
Even in today's digital era, allowing students to expand their minds and stimulate their curiosity with physical books remains one of Meadowbrook's core values. Our spacious new library will offer reading nooks and dedicated study rooms, along with rooms for group projects and a storytime area for younger children. The library will also house our technology department, including a help desk and computer science training room.
Lower and Middle School Classrooms
Learning at Meadowbrook involves much more than students sitting in rows listening to teachers lecture; it also happens in small groups where students work together and get their hands dirty, devising their own solutions to problems through trial and error. Additional classrooms with flexible breakout spaces will support this model, promoting creative collaboration during class time. A new lower school wing will group classrooms together along an expanded hallway, allowing for easier navigation and increased interaction across grades. Because we currently lack sufficient classroom space for the Middle School, relocating our labs to the new science hub will free up additional space for middle school classrooms on the lower level.
Admissions Wing
In order to ensure that we continue to attract bright, promising students, our dedicated admissions staff requires additional space for testing, interviews, and other essential activities. Renovations made possible by the campaign will open up space in our administration wing, which will be transformed into an inviting new admissions area that provides a warm and welcoming environment for prospective families.
Recognizing Exceptional Educators
We entrust Meadowbrook's teachers with the enormous responsibility of supporting and educating our children during their pivotal formative years. Our faculty members consistently rise to this challenge, and exceed our high standards in the process. Whether working one-on-one with a student after class, coaching one of our teams to victory, or staying late to develop a new twist on a traditional approach to a topic, our teachers are – without a doubt – the heart of Meadowbrook.
In recognition of our faculty's commitment to excellence in education, we are proud to announce the creation of The Steve Hinds Faculty Support Program. This key component of the Imagine More campaign honors Meadowbrook's longest-serving headmaster through a unique endowed program that will help ensure our school's long-term fiscal health. Gifts to the program will support competitive salaries, professional development, wellness programs, and awards; named funds will recognize individual faculty members for their exemplary teaching.
Through the campaign, we also hope to double the endowment of the Meadowbrook Leadership Institute (MLI). This celebrated professional development program enables teachers to design and propose innovative off-campus projects and bring what they learn back to campus to enrich our curriculum. Increasing the MLI endowment to $2 million will enable a greater number of teachers to take benefit from this unique program, opening the door for even more engaging learning experiences for our students.
A Diverse and Vibrant Community
Students learn best when presented with a rich variety of viewpoints and opinions. A learning environment that includes classmates and teachers from different backgrounds, traditions, and beliefs benefits everyone by helping children develop a strong sense of both empathy and identity. Sustaining and expanding diversity at Meadowbrook – a crucial dimension of Meadowbrook's current Strategic Plan – also constitutes a key goal of the Imagine More campaign.
In order to maintain Meadowbrook's diverse community, we must expand our financial assistance program through endowed funds so that we can continue to offer assistance to deserving students, regardless of individual family needs or the economic climate. The Imagine More campaign includes $5 million for endowed scholarships – a vital investment in our efforts to foster a diverse, vibrant community that reflects the wider world we are preparing our students to enter.
Planting a Seed for Success
Established in 2012 by Jim and Bryann Nuzzo, the Steve Hinds Endowed Veteran's Scholarship is awarded to a deserving student whose parent has honored our country through service in the armed forces. Inspired by the generosity of the Nuzzo family, Meadowbrook parent Kathleen Corsi made the first gift to the Imagine More campaign in support of this scholarship. "We have a generational responsibility to support these soldiers and their families, who have so bravely and selflessly served us all," says Kathleen. "I've been honored to contribute to this scholarship every year, and I am pleased to continue the tradition through the Imagine More campaign."
Dana Thomson's daughter became the first recipient of the Steve Hinds Endowed Veteran's Scholarship during the 2015-2016 academic year. After her husband passed away, Dana hoped to find a caring educational environment where her daughter would be challenged and inspired, and the Scholarship has made that dream a reality. "Our whole family looks forward to giving back to the Meadowbrook community in appreciation of this gift and in memory of my husband's years of service to his country," says Dana.
"Dana and her family are a testament to the importance of welcoming students from a wide range of backgrounds into the Meadowbrook family," Kathleen asserts. "I look forward to Meadowbrook's increased capacity to extend financial assistance thanks to the Imagine More campaign."
For information about naming opportunities, please contact Niki Leiter, Director of Development, by email
or at (781) 314-9203.